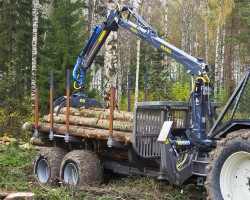 FARMA proudly presents our largest and most advanced driven model, the T16 4WD, in the Generation 2 series. A forwarder class trailer for forestry contractors. A trailer based on user experience that functions extremely well in its work environment.
The octagonal, bent, centre profile gives the trailer a new and innovative design that contributes to a more impact-resistant trailer, better able to deflect stumps and rocks in the forest.
The T16 4WD has hydraulic drive as standard with two drive modes – forwards and backwards. The power in the trailer's 4WD is among the market's best. The drive is adjustable over the speed range 0-4 km/h. The drive is extremely useful in difficult driving conditions on soft ground and in hilly areas. The wide trailer provides increased stability when driving.
The hydraulic folding railing increases accessibility behind the crane and contributes to better visibility. The trailer is equipped with double trailer steering cylinders for uniform torque of the drawbar. The lumber trailer has a high ground clearance and is equipped with 600/50×22.5 Trac tyres. As standard, the trailer is equipped with drum brakes on 4 wheels. The hidden hose runs, as well as integrated rear lights in the chassis, give good protection to vulnerable parts during forestry work.
The T16 4WD is a professional lumber trailer equipped with a number of features for your comfort. Hydraulic extending frame is standard. The frame can be extended by 80 cm, which provides fast adjustment for optimal balance at different timber lengths and gives other advantages, such as in difficult conditions.
The trailer is equipped with our longest and most professional crane, the FARMA C 8.5. A modern crane with linkage system. The crane's design offers the very best close range properties, more even operation and an outer arm that is equally powerful throughout the whole working range. The C 8.5 has a double telescopic extension with a stroke length of 3 m in total. The crane can be customised to your particular needs for controls. We deliver the market's most extensive range of valves. Everything from the simplest to our most advanced valve.
The T16 4WD is delivered in the same shade of green as the rest of the FARMA range.
Price:
Please contact us
Trailer dimensions | Crane dimensions | Matrix
Trailer
| | |
| --- | --- |
| Load capacity | 16 000 kg |
| Loading area | 3.2 m2 |
| Ground clearance | 605 mm |
| Wheel dimension | 600/50 - 22.5 |
| Weight basic trailer | 4 000 kg |
| Steering angle with frame steering | 52 ° |
Crane
| | |
| --- | --- |
| Lift capacity net | 45 kNm |
| Slewing torque | 16 kNm |
| Slewing angle | 360 ° |
| Reach | 8.5 m |
| Telescopic stroke length | 3 m |
| Recommended Oil flow | 40 - 70 l/min |
| Working pressure | 190 bar |
| Weight kg incl. grapple 0,20 / Weight of crane* | 985/850 |
| Weight kg incl. grapple 0,22 / Weight of crane* | 1 020/850 |
| Lifting force kg full length (excl. grapple/rotator) | 520 |
* Weight kg incl. grapple, link, rotator